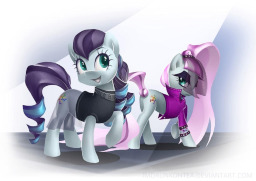 Source
A submission for the MLP Forums NaPoWriMo event.
Please note that I am not a fanfic writer and this is my very first fanfic I've written ever. It will most likely lack the standards of a regular fanfic, but I still hope you will enjoy it.
This is a short story about how Coloratura met her manager, Svengallop, who will lead her to her newfound path to glory and fame.
Chapters (1)