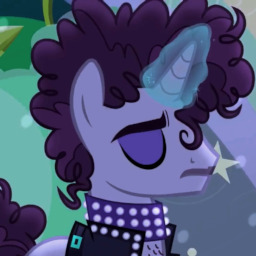 Among the host of backup dancers and stagehooves supporting Countess Coloratura is a unicorn with a small but important role: Activating her voice-changing amulet.
But that unicorn's place in the world of music wasn't always so small. There was a time when he was every bit the star that she is now.
One night she changes her act, firing her longtime manager and choosing to let her natural voice shine. And the unicorn finds himself with time to ponder what this means; both for the Countess, and for his dreams of making a comeback...
---
Pre-read by Bluegrass Brooke and MisterNick following an appearance as "Still Waiting" in the December 2015 Writeoff, "Things Left Unsaid". I would be remiss not to acknowledge Trick Question for giving the same name to the same pony around the same time I did, though I maintain we each did so independently.
Chapters (1)