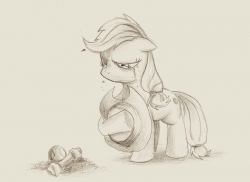 Source
For as long ago as she can remember, Applejack has always had a best friend in Winona. She and her dog had grown up side by side, working together about the farm and enjoying each others company, and playing together when their day's labors were complete. Winona had even saved Applejack's life.
One October, Applejack finds herself alone for Applebuck Season, and quickly becomes overwhelmed with the amount of work ahead of her. But when Winona starts exhibiting alarmingly strange behavior, a high-strung Applejack's patience is quickly worn out. And in the end, the dog leads its master to do something that will haunt her for the rest of her life...
Inspired by the memory of my own dog...
Chapters (1)