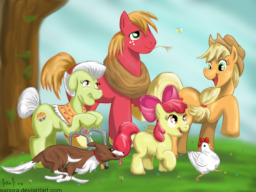 Today, Sweet Apple Acres will be visited by somepony special. They haven't been there for a while, and they're sure to make a big impact when the time comes.
A/N: Thanks to Arbarano (again) for getting rid of those grammar errors, and for helping me with the dialect of the apple family.
And http://sanora.deviantart.com/ for allowing me to use his picture.
Chapters (1)