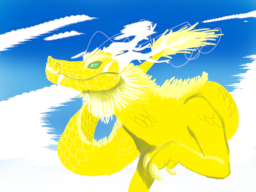 Alexander, a human with a unhappy history on Earth, is given a mysterious golden scale by a mysterious entity. After passing out at home, she is born as a Golden dragon serpent with the powers over time in the world of Equestria. However, she is two thousand years in the past, and her powers are uncontrollable, nor does she know the land she is in. Will she bend to dark, or to light, or will she be the order that Equestria honesly needs?
[Do to being in other fandoms, I have decided to put this on Hiatus in hopes I will return to this story eventually.
EDIT: Might not continue, will think about in the future. Added custom Cover Art, please do not reuse without permission.]
Note: Anyone who wishes to do a crossover with this story (as in Displaced wise) must wait. 1. Fucanglong hasn't made a token and 2. I have no plans to do a crossover so soon. Thank you very much.
Chapters (4)