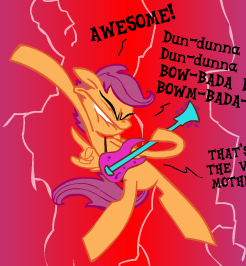 Scootaloo has seen fame.
She sees it almost every night, touring with the Rage Cage, a band hellbent on bringing fiery licks and shred to the ponies of Equestria.
One fateful night, however, the stage collapses, and Scootaloo is caught in the middle of it, her axe, Clementire in her hooves. She awakens to a world that definitely isn't Equestria. She does not know where she is, only that her axe has followed.
She will learn to shred with the best if she hopes to return home.
Chapters (1)