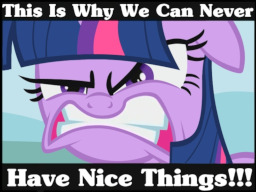 Source
Twilight Sparkle is no ordinary unicorn. She has recently gained the title of Princess of Friendship and has now earned herself a castle in Ponyville. She even is now an alicorn! Life seems to be going her way.
But since when was her hoof so... big?
----
A one-shot comedy that I came up with for no reason. Enjoy!
Chapters (1)