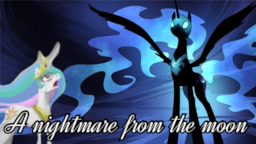 THE UNTOLD STORY OF THE SISTERS
Luna and celestia has enjoyed being together when they were fillies. But Luna turned to nightmare moon. And Celestia misses her sister and does evrything she can do to bring her back.
-
Will celestia get her sister back, or will Nightmare moon take over Luna for the rest of her life.
-
PS: this story will have to endings, a happy one and a sad one.
Chapters (4)