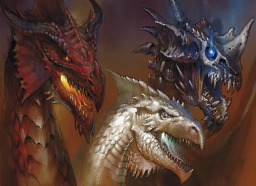 Dear Upper Management of the Which Ever Reality This Lands In,
I am sad to inform you that you've involuntarily been volunteered to now house some of the most wicked and most powerful beings that our reality has to offer. I must offer my condolences as these charges will become your problem instead of ours.
We are not overly cruel as to send these monsters anywhere near their full power however, (mostly because we don't want them finding a way back) and have sent them in a form we feel they will do the least amount of trouble. As an added measure, we have also sent a handful to also help contain them in your reality and act as a safety net if necessary.
Again I must apologize for the inconveniences this act will bring and I hope you won't hold it against us.
Sincerely
A reality away from yours, and more specifically Archmagius Ehinera,
Chapters (3)