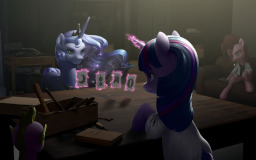 Source
This story is a sequel to Friendship Is Magic - Extended Cut
---
Nightmare Moon has been defeated and Princess Luna restored, and Twilight Sparkle is well on her way to rewriting the entire history of the Lunar Rebellions.
It's a shame nothing the Princess has to say makes any sense whatsoever.
A serious fantasy adventure based on the Season 1 episode Feeling Pinkie Keen.
Co-written with Serketry.
Chapters (2)