Words cannot describe how exhausted I am. This has easily been the most brutal NaNoWriMo I've ever done. Ironically, it hasn't been because of my word count goals.
It's been everything else.
But, it is the end of National Novel Writing Month, right? So we should probably talk word counts.
---
NaNoWriMo November Word Count: 80,918
Daily Word Average: 2,697
---
Completed Projects:
On the Brewing of Saddle Arabian Teas, Stars Amidst the Snow
Projects in Process:
Codename: Serenade & My Kind of Crazy
Daily Word Count Breakdown
November 22 - 4,401
November 23 - 3,007
November 24 - 6,245
November 25 - 2,029
November 26 - 2,668
November 27 - 4,218 (Monthly Word Count Victory)
November 28 - 1,806 (Scrivener Victory)
November 29 - 1,056
November 30 - 2,030
If you haven't seen it, here's my official 50K NaNoWriMo Victory Infographic:
So what were my winning words?
NaNoWriMo 50K Word: beautiful
Daily Word Count 75K Word: Pinkie
Scrivener 75K Word: looking
Finally, here's my Scrivener Word Counter:
Okay, let's get into this month's Takka Takka Takka, by starting with a quote from my new current story, My Kind of Crazy, a delightfully fun little shipfic with the Equestria Girls Pinkie Pie and Skystar!
Skystar turned at stared at Pinkie with huge eyes. She blinked a few times.

"What?" Pinkie shrugged. "If you don't want to talk about being a mermaid, that's okay. I have friends who are actually magical talking ponies from another dimension!"

Skystar kept staring.

Pinkie winced. "Oops! I forgot. They don't usually like talking about that. So, I'd appreciate it if you kept that to yourself, okay?"

Skystar's mouth opened and shut a few times, like she was imitating a giant fish or something.

Pinkie smiled back at her, this time using one of her happy casual smiles.
---
Hey, it's Christmas, so need to point ya at Patreon. Yeah, I don't really like doing it either, but stuff is… hard right now. So anything you could throw my way would be appreciated.
Now, let's get a move on!
---
National Pony Writing Month
Okay, let me first say that writing NaPoWriMo and running NaPoWriMo are two psychotically different things.
The catch is… about 98% of that is my fault. As you folks have seen, I'm not one to dream small. "Do it right and do it with style" is my catchphrase. And NaPoWriMo was no exception to this rule.
Did you know that it's really hard to write Inspirational Posts when you're struggling to be inspired yourself?
NaPoWriMo Week 1 Talk: Perseverance
NaPoWriMo Week 2 Talk: What To Do When You're Off Course
NaPoWriMo Week 3 Talk: Reigniting the Spark
The first topic was mine, and I had one rather verbose individual who disagreed, I hope it helped. Honestly, it had to be the first topic, because just doing the writing is really how I get my insane word counts done. It's how I get anything done. It remains how I'll get anything done.
There were plenty of times where I was just sick to death of writing. I got to a point where I literally couldn't think of anything to do but write or maybe play a game. Almost every night this month, I'd come home write for a few hours and then play something just to relax a little.
The only time when I didn't need to do that was the day I started My Kind of Crazy. But I'll talk more about that in the November Bookshelf below.
Here's a list of everything I pulled off for NaPoWriMo:
Ran the following Discord Channels:
- EquestriaDaily NaPoWriMo
- Novel's Nook "Quills and Sofas" NaPoWriMo
Supported the NaNoWriMo Bronies Discord Server
Did a little bit of inspiration work for the Enchanted Library's NanoMono channel (but that was really minor)
For the Discord Servers, I posted daily writing quotes from famous authors designed to encourage and inspire people to keep pushing forward, as well as the required cute writing pony pictures.
Equestria Daily Weekly Posts
Sethisto was kind enough to made me into a temporary columnist/editor/blogger for the month. This was done for a few reasons. Mainly so I didn't have to bug anyone else to do the posts. Other part was a bit selfish. I kinda wanted the credit for doing all this work!
Using this ability, I posted the three articles you see above. Now, believe it or not, that's a huge pain. First of all, finding new high-quality pictures of writing ponies is actually harder than you think. Also, just coming up with the material, as I said, was huge.
Plus all those little shipping captions was hard work (But a lot of fun).
Ironically, this idea didn't occur to me until after November had started. And then Mono had to be her amazing self and pull out this incredible talk about characterization. So that inspired more! Now, I happen to be one of those crazy people who will actually walk up (or in this case message) people I really freaking admire and say, "Hey, got any words of wisdom?"
Thankfully, those awesome people answered in spades! All of the interviews were done through Discord chats. Some of them went back and forth, some of them were a bit more like "here's a few questions, answer when you can."
So, a special thank you to all the folks willing to chat about their talents. I really aimed to make the topics and advice actionable for people, and I hope that came across well.
Here's a list of all of the NaPoWriMo interviews:
Monochromatic on Characterization
MrNumbers & Corejo on Setting & Description
Aragon on Comedy
Justice3442 on Comedy
Crystal Wishes on Romance
Oroboro on Drama
Timaeus on Romance
In addition to all that above, I had my lofty 75,000 word goal. Thankfully, I still made it, though it was far closer than usual. I ended up almost panicking at the end, but I made it! Ironically, I never actually got around to writing in Wavelength Theorems. Heh.
---
At the beginning of the month was my yearly trip to Blizzcon! Fantastic stuff, as I've already talked about in my first NaNoWriMo post: For the Alliance. The reveal of Battle for Azeroth was pretty damn epic. The whole thing was exhausting and fantastic. One of the best parts about it is I got to actually go with a fellow FimFic author!
I even did over 1,000 words on both days of the con! 
---
EquestriaLA had a great final year. It was the very first time I brought my whole family with me to the con, since we're local. Though they only stayed on Friday and I went back on Saturday and Sunday, it was a great experience.
I got to see my two little girls chat with Andrea Libman (who said hello to them both in Pinkie's Voice and then said "You rock, woohoo" in Fluttershy's).
I got to see them have an impromptu dance party with Mike Vogel after he read them "Good Night, Flurry Heart" (and I'm so buying that book. It's actually fantastic).
They got to see the Vendor Hall (and were mostly under control).
They did a singalong with a fantastic Pinkie Pie cosplayer and… to my total surprise, a Countess Coloratura cosplayer (and yes, I was singing the whole time too).
It was even better when they had a Sunset Shimmer and Twilight Sparkle (Princess, not SciTwi! HA!). Caitlyn, my eldest, thought it was "so cool" to get to meet the real Sunset Shimmer. And if you think I'm going to take that away from her, you're sorely mistaken.
In fact, they had a little "Friendship Lesson" share time and of course my girl was the one who wanted to answer everything. Apparently, she's paid way more attention to MLP than I thought. She's almost as good as me. (Terrifying thought, I know).
As you can see, I took a few pictures there.
I even scored two Starstruck EQLA OC plushies for Christmas. One for each of them. And an extra for me.
Not only that, but Ebon Quill finally got to meet my family. We even had dinner at my place, though we had to leave quickly because the girls refused to go to sleep with him there. They were way too excited. Dangit. Still, I was thrilled.
Ebon even bought me one of those GIANT SUNSET SHIMMER PLUSHIES that's designed to be carried around on your arm. I may have to take her to EFNW 2018. Basically, he ordered me to pick something from the vendor hall… and I couldn't decide. He threatened to embarrass me… and even though I suspected (okay, fine, I knew) what he would do… I still couldn't pick!
Also, one of the greatest highlights was actually "talking" White Diamonds herself into doing a RariTwi commision for Monochromatic. She was actually fantastic. And they were both going on and on about how adorable they were. While Mono couldn't be there on Sunday to pick up the commission, I did enjoy just SHOWING White Diamonds Mono's reply in text, which was mostly OMGOMGOMGOMGOMGOMGOMG-style geekouts (so, par for the course on Mono).
Now, hopefully I don't get in trouble for showing you all this, but....
It was a great time. We even had this epic moment where someone had purchased the ENORMOUS (seriously, this thing had to be 4-5 feet tall) Starstruck EQLA OC Plushie for $1000 and then waltzed into closing ceremonies, put it up on stage and told the con chair, Casey (who was already crying) that it was hers. The guy dropped $1000 for a huge plushie JUST TO GIVE IT BACK TO THE CON CHAIR! Okay, no joke, I'm actually crying remembering it. Stop making me cry, blog!
The children's program was amazing and while a few of the panels were hit and miss (I really should have done a writer's panel thing there), I do hope it comes back in some way, shape or form.
---
November's Writing Bookshelf:
On the Brewing of Saddle Arabian Teas - First Draft Complete!
Originally, this was supposed to be a fun romp through some silly used bookstores. Instead, it turned into a world-spanning adventure epic. Sunny and Twi have to deal with a freaking dragon (and no, it's not an illusion this time), the brother of some Doctor in Ponyville, the depths of some weird dimension called B-Space, creepy prophecy-spouting lunatics… even the worst thing ever: A RETAIL CHAIN STORE!
It's heartbreaking, heartwarming, interesting, confusing and totally nuts. And it's going to need SO MUCH EDITING. X.X
It's also my longest Wavelengths story to date at 87K total. Be afraid. Be very afraid.
Stars Amidst the Snow - First Draft Complete
Deathscar mentioned doing his annual Christmas FimFic and I decided it might be fun to make that a tradition. I did something similar with Tactics of Snowbound Unicorns last year, but I'm not ready to do that with Wavelengths just yet. So instead, I ran off to a whole other dimension!
That's right folks, Deerity and the Astra Princess Twilight Sparkle are back! 
Now, the irony is that this story completely got away from me. I wrote 8,500 words that won't end up in the final piece. Before I knew it, the story had turned into dealing with the fallout of the Battle of Harmony Gate during the events of the original Diamonds Amidst the Stars. And while I have a great piece about Rarity and Twilight completely owning that ponce Count Blueblood, I eventually realized that the story my mind was trying to tell wasn't the story I wanted to tell.
It was becoming some massive semi-political drama about how the deerkin are viewed after being such an isolationist people for centuries, as well as setting the stage for the next big sequel.
But I wanted cute fluffy things. So I abandoned my third chapter and wrote an entire new ending. Now, there's going to be only two chapters (I hope), but it'll need a lot of work until it's ready for you.
How Not to Use Your Royal Prerogative - Polish & Publishing In Progress
Big reveals happened this month! Believe it or not, the chase chapter and the unveiling of the saboteur were originally a single chapter. Plus the ringleader's name was originally revealed at the end of that chapter. Instead, I played it out a little and I'm pretty happy with how it turned out.
It's going to be awesome finishing this. Just a few more weeks!
My Kind of Crazy - In Progress
See more on this one below!
Codename: Serenade - In Progress
I decided "Secret Project" was a stupid name.
...what, did you want more? Ha! Too bad!

---
December Writing Bookshelf:
My Kind of Crazy - In Progress
This story came out of nowhere. I loved Skystar and Pinkie together in the movie, but the idea of doing them in EqG just suddenly spawned in Cynewulf's server when I was chatting with Corejo and DwarvishPony.
Novel Idea
Sky[Pie] for best movie ship because SO ADORABLE
Infinite worlds. Infinite ships.
Oohhh EqG SkyPie.
/ideas
Corejo
It's your pretty standard 'interesting new person meets lonely person' sort of trope, but it would still be interesting to see
What would SkyStar be in eqg tho?
Or where and all that?
DwarvishPony
Transfer student
Novel Idea
Daughter of a foreign ambassador
So crazy isolated.
Corejo
Boom
DwarvishPony
I like the idea that Skystar is just a little unhinged
Corejo
Because she is
DwarvishPony
Because she's super lonely
Novel Idea
She's just a tad.
Corejo
Because she's cooped up
Novel Idea
She's no crazier than me.
/lowbar
Corejo
Shelly and Shelldon aren't exactly A-type personalities
Novel Idea
Lol
DwarvishPony
'My Kind of Crazy' sounds like a fun title for SkyPie shipping
Novel Idea
I kinda want to do this now
Pinkie would teach her Swing Dancing
DwarvishPony
That sounds fun
EqG or pony?
Novel Idea
EqG maybe... just for kicks.
SkyStar is like a hazard when dancing. She flails all the time because she's never danced with anyone.
So Pinks may take a few hits in the process.
And My Kind of Crazy could be the name of a Swing song.
(Sounds like one from that era)
DwarvishPony
I really hope you're doing this
Corejo
you guys got me watching One Small Thing right now
hope you're happy
Novel Idea
I might.
DwarvishPony
I am
Novel Idea
I am
Hehe[
Corejo
good
cause i am too
love this song
---
General Projects - Ongoing!
I'm not sure what I'll be writing after the SkyPie story. Right now, I'm going to focus on editing the new Diamonds story, the SkyPie story and finishing Prerogative, as well as prep for the big thing getting announced tomorrow. I'm dropping my word count goal to something like 1,500, but I'm not even going to be upset if I just get past 1,000.
I deserve a flippin' break.
---
The "Currently Reading" Bookshelf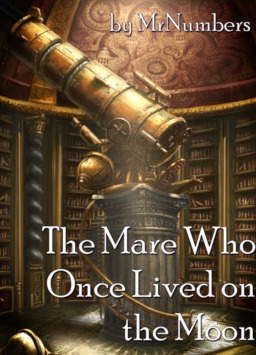 Considering how exhausted I am, I wanted something I'd read before that was cool, fun and simple. So, I busted this gem out for a second full-readthrough. I do recommend you read it, if for some reason you haven't. Hell, I did a 30,000 words followup on it several months ago!
---
Monthly Story Recommendation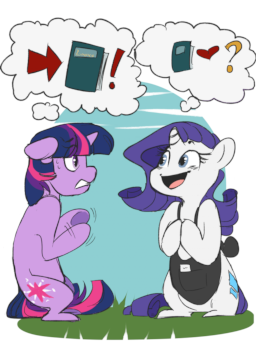 Sometimes, even the Element of Magic shouldn't screw with spells. Twilight learns this the hard way when, while using the same spell that sucked them into the Power Pony comic, she takes a few too many liberties with that a romance story of Rarity's!
It's Mono! How could I not recommend it? It's a fantastic take on the classic romance tropes (and cliches), plus more RariTwi. You can't go wrong with more RariTwi.
---
I'd love to talk more, but I'm seriously fried. Way too much to do. Work, work, work!
Until next time, have fun out there!