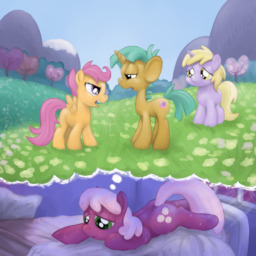 A simple, run-of-the-mill field trip. Cheerilee had been there last year (and the year before that), so bored she could fall asleep... but knowing it was her students first time was enough to perpetuate her through the trip and not just through the motions. Now that it's wrapping up...
What happens when a couple of Cheerilee's students are in trouble and she's forced to make a tough decision?
Under Teen for dark themes and mild violence.
Cover art by Smudge Proof.
Chapters (9)