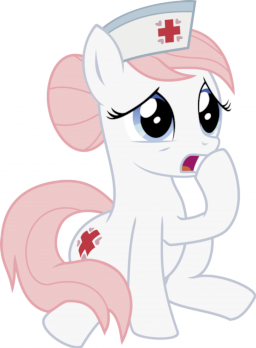 Source
After another day of helping patients at Ponyville General, Nurse Redheart heads for home. But on along the way, she runs into an old friend, Tough Talker, now disheveled, disoriented, and battered, lying within an alleyway. Thus after taking him home, getting him nourished, well-fed, and cleaned up, Redheart learned something tragic from Tough Talker: that he had a severe estrangement from a close friend he has known for years. A month had passed since that time and Tough Talker's life has gone on a chaotic downward spiral. Can Redheart help mend her old friend's broken heart? Can she lift Tough Talker of out his depression?
This is my tribute to all nurses everywhere around the world for serving and helping those in great need, both on and off the field.
It is also a tribute to all those diagnosed with autism, Asperger's syndrome, and ADHD, especially those who struggle in real life.
Also, please make sure that your comments are kind, constructive and sensitive. I will block/delete ANY AND ALL flames and negative comments (which includes shaming, long disciplinary paragraphs, and tirades), for this is a story I poured my heart and soul into writing; negative reception is very discouraging and demoralizing for me as a writer, so I ask once again ensure that your statements are both sensitive and encouraging. Thank you very much.
Also, this story was edited and reviewed by Thunderblast and Georg.
Chapters (1)