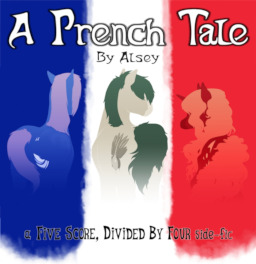 Ambre, Sarah, and Laurence do not seem to have that much in common besides living in the same city of southern France, and sharing a birthday on May 1st. However, the three of them will soon have to come together, as chance and fate force upon them the greatest change they ever experienced – forever altering their bodies, their minds, and their very lives.
How would you react, if suddenly you were cast into a skin not your own, and all you thought you knew about yourself or your place in the world was upended?
Treat it as a blessing, a new beginning, letting go of what once was? Try to hold on to yourself, while adapting to circumstances?
Or fight and reject it all, whatever the cost..?
---
Though we follow the same characters from start to finish as they learn to deal with their transformed lives, each Part of this tale is its own adventure, focusing on a specific plot and themes:
---
This is a sidefic set in the 'Five Score, Divided by Four' universe created by TwistedSpectrum. I recommend the original fic, as well as the various subsequent sidefics by other authors, but neither are required for enjoying the present tale, which is conceived as a stand-alone story exploring other corners of this universe. The fic does not currently take into account the 2019 update of Five Score, Divided by Four.
Chapters (29)