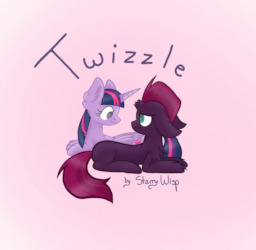 *MLP MOVIE SPOILERS*
~we were just friends before, but we discovered something more~
To think that a pony can go from enemy to more than friend in a matter of a month is mind blowing. Especially for this mare.
Fizzlepop Berrytwist, formerly Tempest Shadow, has been promoted by Princess Celestia to be Twilight Sparkle's personal royal guard, after she risked her life to save Twilight's. It's been the best month of her life so far. But in this time, Fizzlepop has learned a new side of Twilight; the comforting, friendly side. And she has a massive crush on her now. But how should she confess? And more importantly, how would Twilight respond?
Twilight Sparkle is overjoyed to have a new guard, and especially a new friend. But recently, she's felt a happy, tingly feeling inside that she can't quite explain. And it only happens around Fizzlepop.
Takes place 1 month after the events of the movie, in the universe where Fizzlepop gets promoted to Twilight's royal guard directly after the movie.
Warning: Very fluffy romance story. Cover art by me, more details on Instagram (@StarryWisp)
EDIT(10/2/19): I'm making a sketched comic for this story on my side account on Instagram, @Flofmoofin! If you enjoyed this story, feel free to check out how it looks drawn!
Chapters (6)