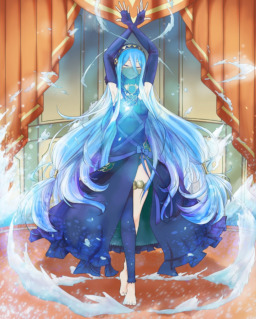 This is a one-shot, not for a competition, just something that got itself into my head and wouldn't leave.
...Oh!
And this is also a Displaced Story, even if it is a one-shot.
---
WARNING:
There are spoilers for My Little Pony: The Movie ahead.
There are spoilers for Fire Emblem Fates ahead.
---
A woman who was sent to Equestria, by a being unknown to all of them, and became much more powerful than she had once been. When she was discovered, not everypony accepted her, but the Mane 6 tried their best to show them that she isn't a bad pony - or in her case a human. During a celebration, they, as well as herself, learned that she had a beautiful, yet powerful singing voice. What she also learned, but kept from the others, is that if she sang with her power, she is also harmed in order to use this power. After being in Equestria for almost a year, she had seen so many things, and had gained so many friends, some she even considered family and they felt the same way. This made her give up trying to go back to Earth - her Earth - and begin a true life here. However, it all went sideways when the Storm King arrived, the guards didn't stand a chance against the opposing army and Celestia, Luna, and Cadence were all imprisoned in crystal, while Twilight had been captured. Azura knew what to do to stop this once and for all, she just hoped her friends would forgive her for leaving them...
... by making the ultimate sacrifice.
---
DISCLAIMER:
I do NOT own MLP, that is owned by Hasbro.
I do NOT own Fire Emblem, that is owned by Nintendo.
Chapters (1)