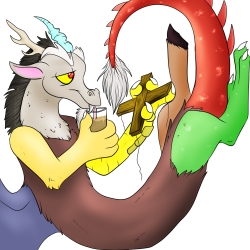 It started as a routine night on guard duty, until an unfortunate accident occurred that may just be the catalyst to reviving the greatest threat Equestria has known.
Now one of these guards knows the truth, Discord told him everything, but no one will believe him, nor will they believe that the innocent colt that's lost on the other side of his known world is really being used as a puppet.
But Discord is still sealed away... isn't he?
Chapters (1)