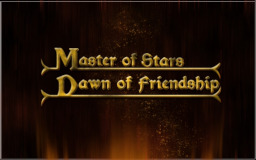 Star Swirl is a name that echoes in the halls of history. The legends of his exploits and tales of his magnificent, magical mastery are impossible to ignore. Even in these modern, peaceful times, there is nopony alive who has not heard the name, or who had not spent their childhood waiting every night for grand stories about this stallion.
Even the most famous of names, however, lose some of their true luster to the grindstone of time. Few exist who do not know of him, yet even fewer know who and what he really was. I offer you his story, the truth of the Master of Myth; a tale of hardship and sorrow, triumph and prestige, love and glory. Long before the life we know came to be, he was only a colt who could never have imagined that his tiny hooves would forge the world into a shape even a god would envy.
Dawn of Friendship is the first book in the Equestrian pre-history trilogy, Master of Stars.
Chapters (2)