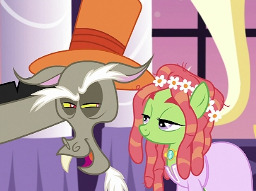 Source
This story is a sequel to Floral Embrace
---
A lot of things happened at the good ol' triple G. The crusaders got some hot tips on cutie marks, the nobles were smoozed beyond belief, and Tree Hugger met somebody who really, really intrigued her.
Still, Discord was a bit bemused when Tree Hugger offered to show him her garden. After all, he'd had threatened to throw her into another reality, and that usually put most ponies off from having more interactions with him.
But perhaps, with time, Tree Hugger's intentions might become clear.
Chapters (7)