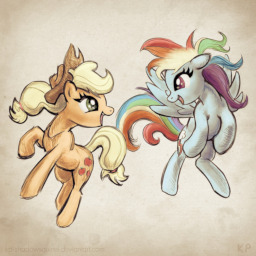 Rainbow Dash doesn't care for love. Applejack doesn't have time.
So when a simple game goes wrong, then Dash's favourite fictional heroine's latest tale takes a turn for the romantic, why does she suddenly find herself with a rose between her teeth?
A/N: I wanted to try something entirely safe for work again, and here we are. Not completely happy with how it turned out, so sorry about that. A (hilariously belated) birthday gift for the amazing RatOfDrawn, who draws cute ponies and has a bit of an AppleDash fetish.
Chapters (1)