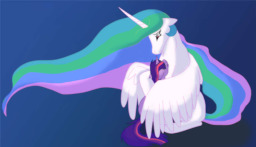 Because sometimes, just because you're immortal doesn't make you invulnerable. Sometimes, the one you're more proud of than anything else is the one that respects you the most, and sometimes respect goes deeper than either of you had ever realised.
Additionally, because sometimes an author wants to try and write something that doesn't end in horse sex, but instead adorable hugging and stuff. If this doesn't work out I'll probably go on and add some horse sex later, because people always like to see that, but I hope people enjoy it. My first foray into a full sized shipping fic, so please tell me what I screwed up.
EDIT: Updated with grammar improvements/education courtesy of the incredibly helpful kits.
Chapters (3)