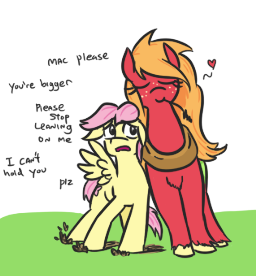 Source
This story is a sequel to Barn Doors
---
Big Macarena Apple and Butterscotch Carington had met under the strangest circumstances. After accidentally catching the farm mare in a bout of heat, the two of them had spent weeks getting to know each other very intimately.
But what happens after the heat dies down, and the two of them return to their normal lives? Do they allow what they shared to pass into fading memory, or do they seize the opportunity to allow something more to grow between the two of them?
These two unlikely ponies love each other from the bottom of their hearts. And they wouldn't have it any other way.
Dedicated to Jargon Scott, the talented artist who drew the cover art, and who's picture inspired me to write this story. Also, a huge thanks to BobtheLurker, who did the prereading for this story.

Chapters (2)