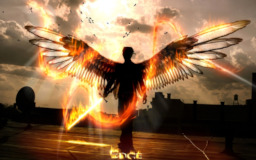 Source
A Fiery Angel...
I bought dual flaming katanas that turned me into a Fiery Angel that can only remember MLP:fim, said Fiery Angel as an OC named Rubae, and buying said katanas from a weird Merchant. Seriously, how stupid was I before that!?
Well, at least I woke up in a fireball I noticed was crashing down into the Everfree forest.
No wait, that was an even worse part!
Someone, please tell me I'll get at least something good out of this
Chapters (3)