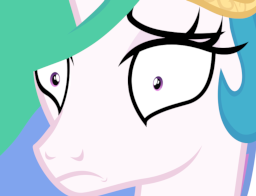 Trotalgar. That insignificant, weed-infested hilltop where one of History's most important battles was won, had once an ill-famed square named after it in the old City of Everfree. That's where Princess Celestia fought an opponent even she couldn't win.
A potted plant.
------
"History may be written by the victor, but urban legends can never be vanquished." - Shih Tzu, Diamond Dog General of the Fido Dynasty.
N.B. Any actual fighting involved is going to be of the internal kind.
Chapters (1)