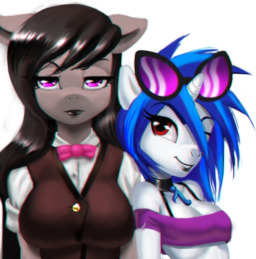 Source
My name is Octavia Harmonious Melody, and I am mentally deranged… No no, I assure you, I'm quite serious. For the past three years I have lived with a voice inside my head, a crazed, lunatic of a voice, who I, through the displeasure of living with for the past three years, have come to almost befriend...
Almost.
Now my childhood friend-turned-enemy, Vinyl Scratch, is inviting me to further my musical prowess by living under the same roof as her, and as much as I can barely stand the sight of her, she represents what may be my last chance at closure and sanity. The irony of which being that I'm sure she's already insane, if not pushing me towards it.
Although, to her credit, she's a nice enough mare, maybe if I could stop the voice in my head for a minute we could grow to become friends again…
...it isn't a sin to dream, is it?
Chapters (7)