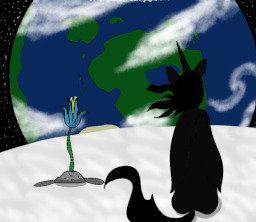 In the distant past, long before the elements, before the princesses, there was discord and sorrow.
Meet Lord Caelestis Niger or Black Sky, to his ponies he is known as The Great Black. Emperor of the Holy Equine Empire of Matavita, a distant land that was just as full of chaos as Equestria is. Until, he forged a brighter future, it just wasn't bright enough, not yet. After another brutal war, he is seeking a better solution to peace keeping. Meanwhile, a distant traveler is also seeking the same thing.
Will they find it together, share it? Or is there no solution to find?
Chapters (1)