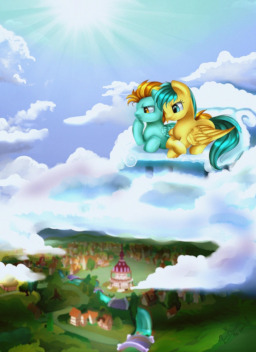 Source
Sunshower Raindrops was not a remarkable pony. She was painfully shy and timid, even a bit of a crybaby. She had no friends and tended to blend into the background. She had long believed that she would live out the rest of her days alone and in obscurity. She never asked for much... but was having a friend really so much to ask for?
When Raindrops happens across Lightning Dust for the first time since her expulsion from the Wonderbolt Academy, she sees an opportunity to finally make a friend. She does not know Lightning very well, but she seeks to fix that by talking to her.
Little did either of them know that it would be a talk that would shape the rest of their lives.
Chapters (1)