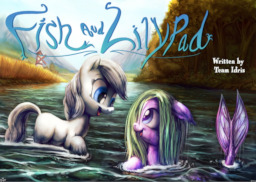 This story follows on from "Fish in the Clouds" and is the fifth in the series of the short stories.
The little filly nicknamed 'Fish' is very suprised to find the stream that runs through her farm finishes at a river with sea ponies in it! Now all she need to do is figure out how to visit their underwater home.
The title art is by JowyBean.
The audio book is voiced by Neighrator Pony;
https://m.youtube.com/watch?v=w4A7Lnka0kY
The previous stories are;
1. Pony Poets,
2. Pony Poets the Wheel Story,
3. Pony Poets Washing Day,
4. Fish in the Clouds,
5. Fish and Lilypad.
Chapters (3)