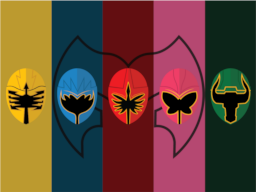 A normal day in Ponyville has turned into one of chaos. Princess Twilight has gone missing and instead, Midnight Sparkle has somehow emerged from within and given Twilight a new form, that of Koragg the Dark Knight! As if things couldn't get any worse, Chrysalis has returned and is stronger than ever thanks to the Nightmare Force's abilities and a malevolent force known only as 'The Master'. With an enemy on the rise the likes of which no pony has seen before, the Elements of Harmony are useless without Twilight around, right? Not really...
Deep in the Everfree Forest, a mysterious book opens and a young mare and her cousin learn of this powerful threat of acombination, knowing that new champions are needed to save Equestria and their own Mystic Realm. Rarity, the generous fashionista; Applejack, the down to earth honest farmer; Pinkie Pie, the energetic fun-creating party pony; Fluttershy, the gentle and kind animal tamer; Rainbow Dash, the most loyal Wonderbolt you'll ever meet; Starlight Glimmer, student of Twilight Sparkle who had been redeemed for her past sins; Spike, the best assistant Twilight could have asked for and now leader of the new heroes. Together with the two magical cousins, they'll fight to protect their land from darkness and despair using courage, belief, and the light within everypony's magical heart! They are the Pony Rangers Mystic Force!
Takes place after To Change a Changeling and will include some hippogriffs.
Chapters (2)