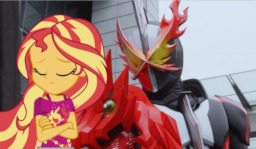 Demon Sunset has been vanquished, but the populace of Canterlot High is finding it hard to accept Sunset as a changed woman. And really, who could blame them? She put them under mind control, nearly took over another world, and destroyed the school in the process. Poor girl has been through a lot in these past few months. All she wants is a way to change, but she doesn't realize it's coming in a seriously unexpected way.
Sunset had received a mysterious book in the past from Princess Celestia before running off to the human world in her exile, and now that book is awakening a new power for her that she will use to save everyone in both worlds. Along with the Rainbooms and several other allies taking on the various Seikens that appear, they face an enemy the likes that no one in Canterlot High or Equestria has ever seen in the Megids, but Sunset will need to face the flames and shut out her inner demon, whom has somehow survived the blast of magic and is now a Megid as well...
Takes place before Rainbow Rocks.
Chapters (3)