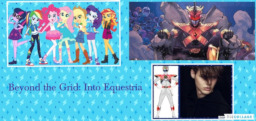 This story is a sequel to Sunset's Ranger Vision
---
The attack that started with the Power Rangers has spread out into other worlds... A single young man is determined to stop this war at all costs, fighting against a darker version of his father to save all worlds... a group of brave young women and multicolored horses with extra appendages join in to save their worlds...
Continuing on from "Sunset's Ranger Vision", The Humane Seven and the Equestrian Seven are in for a pretty big doozy when JJ Oliver, a Power Ranger who is also called the Ranger Prince, comes to their worlds. His mission? Help the other Power Rangers stop the menace known as Lord Drakkon from taking over the multiverse. But he won't be able to do it alone. Calling on some new powers and old foes now redeemed, the girls and their pony counterparts will have to assist JJ in fighting Drakkon while Sunset and Sci-Twi call on some old forms they thought they'd never need again. but will it be enough to stop Drakkon in his tracks? And what will happen to JJ once he starts developing feelings for one or maybe two of the Humane Seven?
Takes place after Rollercoaster of Friendship.
I do not own Equestria Girls or Power Rangers, as this is a fanmade story. All rights go to Hasbro.
Chapters (7)