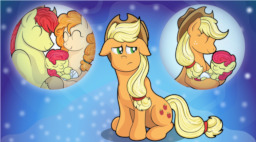 Source
There is nothing that the Apple Family holds more dear then Family, Integrity, Honesty and Hard Work. Under these guiding principles, the Apples have managed to overcome every challenge, no matter the hardship. Applejack is no exception. Her very identity is built on them.
So when her relationship to Apple Bloom is called into question, there is no way that she can take it laying down.
---
Special thanks to Jet Storm for editing this story.
And, special thanks to Little Tigress for drawing this story's coverart.
Chapters (4)