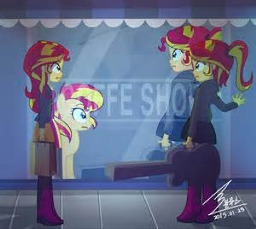 Source
Based off Don't Tell Me You're Too Blind To See by Susnet
---
Sunset Shimmer is tired of having to prove herself in front of those who won't give her a second chance. Her reformation seems more like a burden than anything. After a stressful day at school, Sunset decides it's better she just give up on Friendship. Feeling defeated once again, Sunset takes a late night stroll through the city....only to bump into...herself?
First featured on 4/18/2015!
This story takes place before Rainbow Rocks, making it AU since it branches off into something else, I believe.
---
Pre-read and edited by GaleSinger
Cover Art by 0Bluse (Bluse)
Chapters (38)