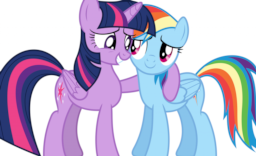 Source
This story is a sequel to Among The Pegasi
---
This story is a sequel to another fic of mine called, 'Among The Pegasi', so I recommend you go and read that story, before reading this one just so that you will be upto speed on everything that has happened so far.
Weeks after the news of Princess Twilight's relationship with former Cloudsdale resident Rainbow Dash was revealed things have relatively calmed down in Ponyville and its citizens have gotten pretty much used to seeing the cyan pegasus with the Princess now. However the same can't be said about the city above, as the pegasi from Cloudsdale haven't taken as well to the news as the town below them has.
And as Twilight plans to go forward with her idea of bringing the two feuding towns to an agreement, and somehow look to a future where they can all get along a bit better. A mystery pegasus from Cloudsdale comes to the Princess and Rainbow Dash, telling them that they also want there to be nothing but peace between the floating city above and the little town below. But could that be all that they are really after, or are they possibly hiding some other intentions?
Cover art by:
Chapters (25)