Hey guys wacky box
I'm only doing one right now
that's okay right
"hey I know this guy" pick:
A Most Irregular Tea Party by Present Perfect
present perfect's name always reminds me of that one episode of the simpsons where like they go to australia and marge finds a pobody's nerfect hat
I don't know why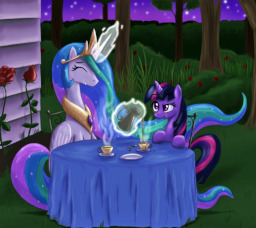 Celestia invites Twilight over for tea and chess. Things don't quite go as planned.
---
so this fic opens up with literally all the drinks in the castle gone
literally someone just
stole everything drinkable
except beer for some reason
I mean it's called a recent string of thefts but this is like grand theft drinko here. Anyone who could steal literally all the tea, wine, and coffee from a castle and not get caught probably could have just stolen the castle.
Twilight's really upset about not having tea because she's British/tea is like a big part of her weird fantasies about hanging out with celestia. The next several paragraphs are about what tea means and how some people drink tea.
What had always sparked her imagination most was that, for all these dozens and dozens of tea sets, some of them quite nearly identical, Celestia knew the history of each. If asked about one, she would expound on the historical period in which it had been created, its cultural significance, the identity of whoever had gifted it to her and, on not-so-rare occasions, that of the craftspony who had created it.

There were tea sets for particular events. A particularly gaudy, not terribly expensive set, for instance, was a favorite of Celestia's for private Hearth's Warming parties, as its garish red-and-green-with-pine-trees motif had no place in the public eye. Manehattan's fashion elite would have heart attacks if they knew their princess owned such an eyesore.

But over the years, Twilight had learned to gauge Celestia's moods by the presence of the set waiting in her boudoir. The red and gold enamel from Zebrica appeared when the Princess needed to unwind after particularly trying diplomatic negotiations or parliamentary debates. The all-silver set meant it was time for quiet contemplation and not asking five questions a minute, Twilight, thank you. And the ancient clay set from the Qilinese Empire with the cracked teapot was always present when Celestia was feeling sad; most especially, Twilight would later realize, it appeared on the anniversary of Luna's banishment. She hadn't seen that one much recently.
yeah you thought that was a hilarious but inaccurate summarization on my part didn't you
Also Present Perfect unironically uses the term Chineighse here and I don't actually know if I can forgive him for that.
Then they play chess except someone stole all the pieces too
So they're going to play with knives
I'm not making this up man I wish I could
Then they get super drunk and instead of doing chess Twilight's like "let's knife fight" and Celestia's like "this is a bad idea" but only for five seconds then she's like "bitch I'll cut you"
Then they have like sex or something I guess
"Do it! And only speak in Old Equestrian. Only my sister gets me off more than abusing my power."
also the whole thing was a plot by Luna and Discord
you guessed it in like zero tries
Obs Thoughts: This is kind of a weird one because it sort of presents like a real Twilestia fic then it takes a total left turn into being about like knife fights. It's sprinkled with like these character bits everywhere but ultimately it's more like a rollercoaster romp than your average everyday shipfic. The whole thing is actually sort of a logical progression given that they're both drunk and alcohol isn't super known for giving people good reasoning skills, but it's just random enough on like the overall level that I'm kind of guessing actual alcohol was involved in the fic's planning/writing.
Anyways it's pretty good. Check it out.
I give this fic a mug of urine
tune in next week probably