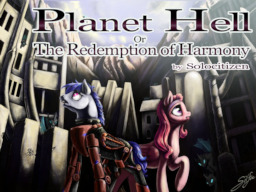 This story is a sequel to Awakening
---
This is the long dark night of the soul. More than 10,000 years have passed since Celestia's reign over Equestria ended and the entire continent sank into the ocean and faded into myth and legend. Although the pony tribes have colonized the stars, the earth ponies have lost their connection to the land, the unicorns no longer think magic even exists, and the pegasus tribe has forgotten how to fly.
Although the principles of magic and friendship and Harmony are under constant assault in this age of war and strife, a pegasus named Thunder Gale has travelled to the ends of the galaxy in search of a long, lost friend of his. His search has led him to a planet where the old ways have not been entirely forgotten and evils left dormant since Celestia's time stir once again. In order to survive the night, he'll have to seek out guidance in the last place he ever thought of looking: the wings on his back.
Not a crossover nor an alternate universe, this is the far future and all this has happened before, and will happen again.
Cover art by Silfoe.
Now featured on Equestria Daily!
Chapters (22)