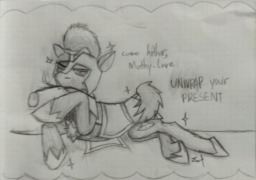 When his friend Wispy Nimbus asks for his help Royal Guard Idol Hooves (not a Changeling) happily obliges. He is not exactly sure what a Hearth's Warming Calendar is but, Wispy assures him, it is for a noble cause.
Wispy would never lie to him, now would she? She wouldn't possibly have a secret agenda? An unscrupulous motive or dastardly intention? She would never, knowingly, manipulate her good friend, now would she?
---
Merry Christmas all! A funny, stupid, vaguely Christmas-themed short story for your consumption!
Art Credit: from my good friend crazeguy! used with his permission!
Chapters (1)