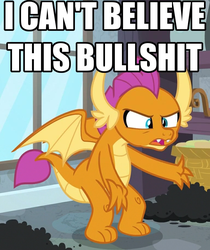 Source
This story is a sequel to The F*ck Is Up With Spike?
---
Smolder, oblivious to the events that occurred, is told of the dumb shit Spike did while walking around town. She admits to teaching him those words, but with her own reasoning. However, she gets into some big fucking trouble and decides that the only way to make anything better is to take matters into her own claws. Buckle the fuck up, bitches. It's going to be a bumpy ride...
Featured at #3 on 8/14/19!
Re-rated T for Strong Langauge
Chapters (1)