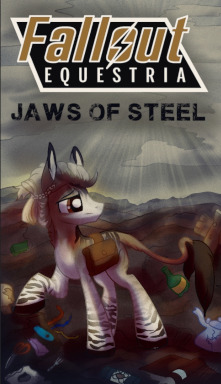 Source
The inhabitants of the Mulisiana peninsula speak of horrifying mechanical ponies which ruthlessly stalk the land, harvesting materials and dispatching any creature who dares cross their path. Within the vast, rolling hills of detritus known as the Trash Heap, the synthetics toil endlessly. To what end, nopony can say.
Seeking to assemble a special weapon, a headstrong young acolyte named Mikaella sets out to hunt the machines...
---
Note: This short story was originally written for and published in Fallout Equestria ABC: Dangers of the Wasteland. It takes place in the setting of Fallout: Equestria, and more specifically my own fanfiction Fallout: Equestria - Of Shadows; it is recommended that you are familiar with the setting of both, but it has been written to stand on its own.
Pre-reading assistance provided by Typoglyphic and Chayn. Cover art by TioTheBeetle.
Chapters (1)