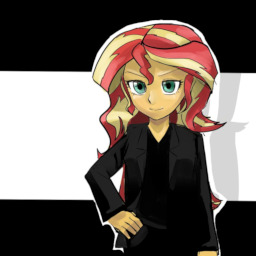 Source
It's been 5 years since Sunset Shimmer graduated from Canterlot high school. Now, she's a 25 year old, responsible, yet overly stressed out young woman working an accounting job with most of her old friends in the city. Life hasn't exactly been good, or really fair to Sunset these past few years. Recently she's plotted and schemed multiple ways to make her own life easier, as of late it involves her finding love. Someone she can marry, be with forever and have cater and provide for her every need. Sunset believes she's found this person in an old high school ex of hers that works in her building. But soon, Sunset will realize that love doesn't solve all of your problems.
---
This story is inspired by, but not exactly based around, the finale of the first season of Netflix's Aggretsuko. If that happens to be a series you haven't seen fully then this story will probably spoil general parts of the 10th episode. You've been warned. Either way, please enjoy.
This story is also a submission to Oroboro's Sunset Shipping Contest: Endings.
Chapters (1)