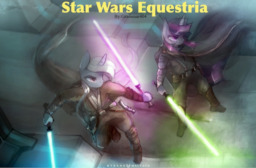 After a brilliant discovery, that sent the ponies to space, the ponies of Equestria looked into the sky for knowledge. A planet to discover, minerals to be found, and hopefully, a sentient civilisation to befriend.
One such expedition was the Star Friends Project led by, none other than, princess Twilight Sparkle, to a neighbouring system that housed 3 planets and 1 suitable for pony life. Accompanied by her friend, Trixie Lulamoon, their supposedly safe and simple journey turned into chaos as the system proved too hostile. Driven away from their escorts, the Amity was driven into a wormhole and ended up in a part of the galaxy unknown to them.
A galaxy in the dawn of civil war, between the dark and the light, how will the ponies fare in this sudden adventure?
---
Please note that this story is not edited professionally and is prone to mistakes and grammatical error. If you do not like the story consider to PM me the cause to further improve the story.
Anyone willing to edit or proofread the story will be credited and mentioned in every chapter.
Thank you for your time, please enjoy.
Chapters (1)