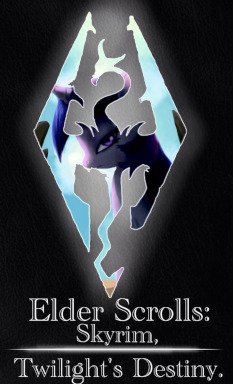 Twilight has been sent to a dangerous world of Skyrim, in her human form. Together with her friend, the Dovahkiin, both will try and survive as they find more adventures while looking for a way to defeat Alduin. And return Twilight to her homeworld.

Join them as they meet other people and companions, as they discover legends and stories. Visit wonderful places all over Skyrim.

Follow them as they pick a side in Skyrim's civil war between the Empire and the rebel Stormcloaks.

Twilight art Disclaimer.

I did some editing of some sort, but the Twilight pony is not my work.

Minor gore(no intestines are going to emerge.) and no actual sex scenes. No boom boom babies.
Apologies, this fic has not been edited. Please be nice.

Chapters (8)