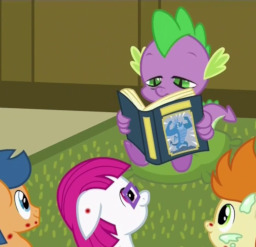 Created for, ahem, CATEGORICALGRANT'S CUDDLEFIC CONTEST!!
Written By Duskhoof
Edited by EverfreePony
In Ponyville General Hospital, there is a filly who remains a permanent resident. Golden Gate has never let that get her down, using her enormous imagination, her Princess Luna plushie and her love of cuddles to get her by. Thankfully, her favorite doctor, Wave Function, has been able to provide hugs and stories by the bucket load, keeping her entertained for such a long time. Yet, she still wishes she could just be a little bit stronger to see a full day without getting tired...
Spike, the dragon assistant of Twilight Sparkle, is confused to find himself in Ponyville General, injured with little recollection of what happened to him. More concerning to him, however, is the memory of his friends Rainbow and Rarity fighting for reasons he cannot remember. As he is due to spend several days laid out in bed on the foals ward, he worries and wonders whether his pals will be okay...
With the help of Dr. Function, the pair meet and together they share adventures, cuddles, and tears as they overcome their adversities to help one another ...
Dr. Wave Function is an original character by CategoricalGrant, used with the permissions granted in the contest.
Golden Gate and Nurse Joy are original characters by Duskhoof, all permissions belong to him (me).
All other 'My Little Pony' characters are property of Hasbro.
There's another wholesome, sweet and sad story that I'd like you all to take a look at. Syn's story about a little foal with a dream and a janitor's opportunity to grant it is a fantastic read, please follow this link as the fella made me aware of this contest in the first place so it is only fair you read his as well.
This story made me genuinely weep a little, it reminded me of my closest nan and having to say a bittersweet goodbye.
I love this tale, Syn. Thank you for writing it.
All good things, your friend
Dusky
Chapters (1)