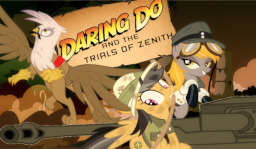 In this story, the young archaeologist pony Daring Do teams up with an expedition seeking the ancient ruins of Zenith- a temple wrapped in South Equestrian mythology that has never been seen in recorded history. Plans for the expeditions all go to pieces as another party seeking to find the ruins for their own reasons soon present themselves: The Gryphons.
Aggressive and militaristic, the Gryphons seek the ruins to show that their species ruled over the continent during early history, proving their species' superiority. The interaction between the ponies and the gryphons does not go well, and Daring is left on her own, alone in the jungle. Will she be able to get back to safety? Will she be able to rescue her captive comrades? Just what are the trials of Zenith? Find out in this thrilling tale.
If adventure has a mane, it must be.... DARING DO!
Chapters (14)