Below are two fanfic reviews based purely on the initial impressions provided by the first chapter (or first 3k words.) For an outline of what my reviewing guidelines are, go here. Please do not request reviews!
My first Mature story review is below. I don't believe I can link directly to the story, even on my blog, so I linked to the author's profile instead.
---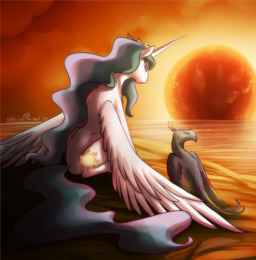 Setting Sun by The Nightingale
Rating: Everyone
Tags: Alternative Universe, Sad, Tragedy
Summary: Celestia writes one final letter to her student, Twilight Sparkle, with one very important message. Celestia is dying, and Twilight will be the one to take her place.
Grammar: 3/5 - I was going to give this a 4/5 originally, but in the later parts of the story there were so many typos that it dropped the rating down. I say "typos" because it feels less like a lacking knowledge in grammar, and more like careless editing. There were rogue spaces, missing spaces, its/it's confusion, missing commas, missing apostrophes etc…. These were easy edits that should have been addressed.
My Thoughts:
This was such a short one-shot that I was able to finish it in one sitting. It's yet another story I would not have added to my shelf had I come across it today. I think it was in the feature box, though, so that must have been the only reason I added it. The summary pretty much says it all--most of the fic is Celestia's final letter to Twilight Sparkle. In it, she basically tells Twilight how much she loves her, how much she thinks she's grown, and that she is passing the rule of the kingdom to her.
Constantly, Celestia speaks more like a mother to her daughter than a teacher to her student. I wasn't really all that into this idea. Certainly the two are close, but just because Twilight stayed in the castle for a time, did Celestia really "raise" her? Also, where in the show do we see any indication of that sort of relationship? I see a teacher who very much cares for her student, but if we're going to suggest surrogate-family relationships, I much prefer ZOMG's "Auntie Celestia" approach in Twilight, Good Night. That feels more believable.
The story also fails to give any stirring anecdotes that would set it apart from any other author's idea of what "Celestia's final letter" would look like. It's just...typical. Sentimental, yes, and I suppose the tone is fine (barring the mother angle I mentioned above) but memorable? Not really…
I didn't get why the Alternative Universe tag was necessary. Just because a character dies doesn't necessarily mean your story is AU. That's reserved for stories that go back and alter canon events to explore completely different possibilities. This does none of that. The canon is more or less in tact going forward. I'm also of the opinion that the Tragedy tag is unnecessary. Tragedy suggests something traumatic and devastating. Celestia's passing is sad, but she saw it coming, and had a chance to say goodbye to Twilight. Where's the tragedy there?
Final Verdict: I finished this one, but I can't recommend it. It's not horrible. It's just...not that great either. It failed to stir any emotions in me, and did nothing of note.
---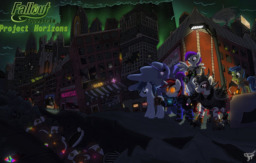 Fallout: Equestria - Project Horizons by Somber
Rating: Mature
Tags: Sex, Gore, Adventure, Crossover, Dark, Romance, Tragedy
Summary: Far off in the East, in a stable beneath the infamous ruins of Hoofington, a lone mare simply wishes for a life of comfort, ease, and maybe a little flank spank in the tunnels of Stable 99.  It's a nice enough place, as long as you don't think about the flickering lights, the strange smells, the ever growing sense of disaster, or the lives of the male breeders.  Perfectly nice... just don't think about it...
But Blackjack's life is turned completely on its head when she discovers a mysterious computer file: EC-1101.  Raiders invade her home in search of it, and the only way she can protect her home is to leave with it.  But what is this file?  What does it do?  Why were they after it?
With only P-21, one of her stable's breeder accompanying her, Blackjack must head out into the wasteland of the Hoof, follow the clues laid out before her, and untangle a vast mystery and conspiracy which threatens not only her stable, or the Hoof, but the very world itself.
Grammar: 3/5 - Spaces after ellipses with no capitalization for new sentences. It's official. It's my new pet peeve. It was very prevalent in this fic, which hurt its rating. That doesn't even address the fact that ellipses shouldn't be used that often. Also, there were various typos.
My Thoughts:
Wow. So this is my first Mature story to review. No pressure or anything. Before I even start reading this, I need to say a few words:
Fallout: Equestria was the very first MLP fanfic I ever read. Back when I was still relatively new to the fandom, my high school friend (a fellow brony) had told me about it. Curious at the strange crossover, I checked it out. This was a few years ago, before it was posted on FimFiction.
I really loved it...and hated it. I recognized its flaws, and was able to forgive them up until a certain point. I stopped reading about the time when Little Pip and co. meet Spike for the first time. By that point, I had grown frustrated with the protagonist, the drawn-out battle scenes, and the baffling refusal to more deeply explore those elements that would have elevated the story into the perfect crossover epic. (The story of what happened to the Main 6 and the end of the world, for instance.)
I have continuously told myself that I need to go back and finish the damn story, if only to say that I did. When I lamented my failure in reaching the end to my high school friend, he told me to forget FO:E, and go straight for FO:E Project Horizons. Thing is, I feel like the original FO:E is like "book 1", and all the spin-offs are its sequels. I hate reading things out of order, so I told myself I wouldn't read Project Horizons till I finished the fic that started this crazy subset of the MLP fandom. And yet…here I am.
Unless this story lights some unquenchable fire in me, I will very likely just set it aside until I've done what I say. The first chapter is massive. +20k words? Are you kidding me? Well I'm only reading the first 3k! So nyah!
All right, from here forward are my actual thoughts on the story. Since this is such a huge story to review, I'll be picking it apart a little more closely, and making notes as I go along instead of summarizing afterwards. I'll separate my thoughts so that they read better.
Thought One--
Blackjack and Little Pip started out feeling eerily similar, which was not in this story's favor. By the time I quit F:OE, I hated LP. I also kind of wished it had taken a different route from, "Ho-hum, life in the stable is dull." Writers have got to remember that not all the vaults were "normal" in Fallout. Vault-Tec used many of their fallouts purely for experimentation. Maybe a stable pony could have been in one of these instead? I think it's entirely plausible for one of the experiments to have survived. Life could have been anything but dull in one of these. An author need only explain how it managed to keep operating--which is half the fun. I'm starting to digress, but I just want to say: I'm starting to fear this story was hyped up too much for me.
Thought Two--
Another minor nitpick:
I gave it a test sniff… ew… unacceptable. I tossed it back on its pile and sifted around for another. Sniff… sniff… yeah, this'd work.
This is first person, so thoughts without formatting is to be expected, but sound effects without formatting? Not too crazy about that. (And can I just say again that new sentences spaced out after an ellipses should be capitalized?)
Thought Three--
Woah. When Blackjack enters the communal showers, it's like the author opened up the cursing gates. I mean, this is a mature story. It's to be expected. It's just my opinion that the introduction of foul language felt jarring. For a good while we had none of that, and this story is told in the first person. Then all of a sudden Blackjack is cursing in ways that feel unnecessary. Even if she was going for an emphatic effect, that kind of loses its oomph the more often you do it. It's my feeling that if Blackjack is foul-mouthed, she should have been cursing sooner. Like when her alarm woke her up and she couldn't find the button to turn it off, for example?
Thought Four--
First real break from Little Pip so far, and it isn't a great one. Blackjack tries to chase down a fellow mare in the showers, thinking lustfully "She has to be mine!" Yeesh. I mean, I dislike Little Pip, but at least she wasn't a hound dog. Good grief, Blackjack, keep it in your pants...er...stable suit.
Thought Five--
Another thing Blackjack and Little Pip share in common? Gratingly self-aware narration. This isn't looking good for this story.
Thought Six--
Black and red OC.

Thought Seven--
Though Blackjack is kind of annoying, she's at least relatable in being despised without much justification. As a security pony, the other occupants of the stable fear and dislike her on principle. At best, she is tolerated, but never really "welcome" anywhere. This kind of isolation is why her character is so socially awkward. It's a better back-story than Little Pip ever got, but that still doesn't make her behavior less frustrating.
Still, I like how Stable 99 is presented. This oppressive, vaguely desperate, cheerless life seems ripe for drama. I'm wondering what Blackjack's call to action will be. I confess that I'm curious. If her character could undergo an evolution to somepony more tolerable, this story might just be something I could get into.
Final Verdict: I...reluctantly recommend this one. The entire idea of this review series is whether or not I could recommend a story on the strength of the first chapter or first 3k words alone. Nothing more. Given what I've read, I have to admit that I feel like I want to read more. But it comes with caveats--namely everything I discussed above. FO:E Project Horizons had the misfortune of being hyped prior to me even reading it. Because of this, it sort of fell under my expectations. Had I just come across this story on its own, I probably wouldn't feel so hesitant to recommend this one. It's not a bad story, but like the original FO:E, it seems to have plenty of flaws.
---
Current To-Read Count: 171/184