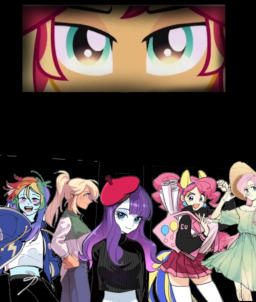 Long before time had a name, Equestria was created by the First Mother Aine, by using the Six Weapons of Harmony. Weapons so powerful, no one can handle all of their power at once. When she passed away, her two daughters swore to protect them, but the youngest was consumed by darkness and wanted to possess them. A battle between sisters broke out, and the youngest was struck down and banished to the Underworld. Peace returned, and the older sister hid the weapons. But knowing her younger sister's relentless ambition for power, she placed a guardian to protect them.
Young genius Sunset Shimmer, joins the ninja team in an effort to rescue her younger brother, Sunburst. Under the tutelage of their wise master Celestia, the six teenagers band together to face Shadowfright and the Nightmare army, led by Celestia's evil sister, Nightmare Moon.
Human Sunset is the main character.
Profanity tag for; Rainbow Dash and Sunset
Chapters (3)