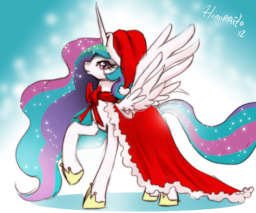 Source
Twilight is frustrated when a fight with her friends over the merits of foal's tales like the tooth fairy leaves her more confused than anything else. Worried that she has offended her dearest friends Twilight writes to Princess Celestia for advice, only to discover that Celestia already has an adventure planned for them.
Together they travel to the coldest and most mountainous region of Equestria to visit a town that celebrates a ridiculous story about a magical Gift Giver who flies overhead giving out toys to foals. Naturally Twilight doesn't believe it. Can the Solar Princess show her former student the importance of fantasy?
This story was completed before Season 4 began airing and was initially set to go out around Christmas, but some confusion with different editors left it in the lurch for awhile. Still, it should be Season 4 compliant.
Chapters (4)