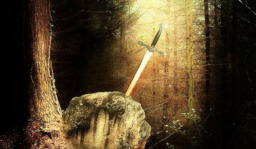 Source
"So wise, so young, they say, do never live long."
-William Shakespeare, Richard III Act 3, Scene 1
Spike has always felt a certain sense of distance from Twilight and her friends. As much as he loves them, he's never felt like he belonged with them.
So, when Luna and Celestia offer him a way to find himself, a way to temper his metal in the fires of battle, he takes them up on it. How was he to have known this was simply the beginning of the end?
With great fear and excitement in his heart, Spike makes a sacred voyage to the home of the ancient Dragons and learns a thing or two about himself.
*Considered uncanon with Season 6 Episode 5.
some SpikexStarlight Glimmer shipping because I'm actually just trash
Chapters (2)