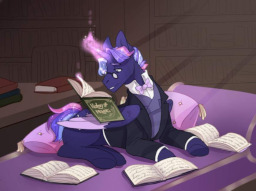 Source
Take a look into the life and loves of Rising Dawn. An Alicorn from Equis and the TBS universe, Dawn is often overlooked in his era of history with his frequent lovers, and issues with drug abuse.
Within this story you will see his life through his own eyes, experience his love for yourself and feel more in connection with an OC who hasn't had the most glamorous life. Some chapters are diary entries, others are poems written by the Dark horse himself, still others are biographical stories told as if we were watching it from afar.
Note: Feel free to add questions or comments and share your feedback! Also if you have a prompt or idea you'd like me to try send it too! Often these entries get filled out with prints and premises!
Chapters (6)