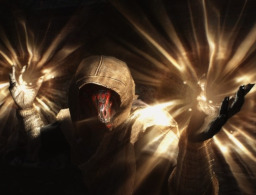 Source
When an ancient argonian adventurer dies he is reborn in his younger body in a unfamiliar land and he must protect those that can't protect themselves. He is a master of magic only recently mastering most known spells. the gear from his old adventuring days is mysteriously transported with him along with a not that reads This may come in handy ~ Sheogorath What is going on why was he sent here and should he even search for a way back? Find out here.
Genre and Characters tags added as needed. Also I'm going to be using spells from both Oblivion and Skyrim as I think its well much better that way, I'm also going to use the dual spell wielding mechanics along with that.
Something I've been writing on and off for about a year or so it might not be very good but eh I can always fix it up.
Chapters (1)