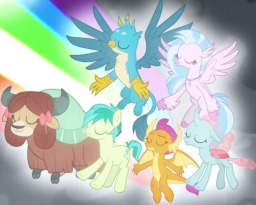 Something odd is going on in the Treehouse of Harmony: earthquakes have rocked Ponyville, while strange sounds and mysterious lights have been appearing with no apparent cause. Maybe it's nothing. Maybe it's just a stress-induced hallucination shared between the most famous members of the first graduating class of the School of Friendship.
No creature believes that, of course.
Whether it's an unknown threat or strange natural disaster, the Young Six have learned how to work together and leverage the power of their Friendship. They will have to see if that is enough to face this new challenge.
Chapters (3)